Main content starts here, tab to start navigating
About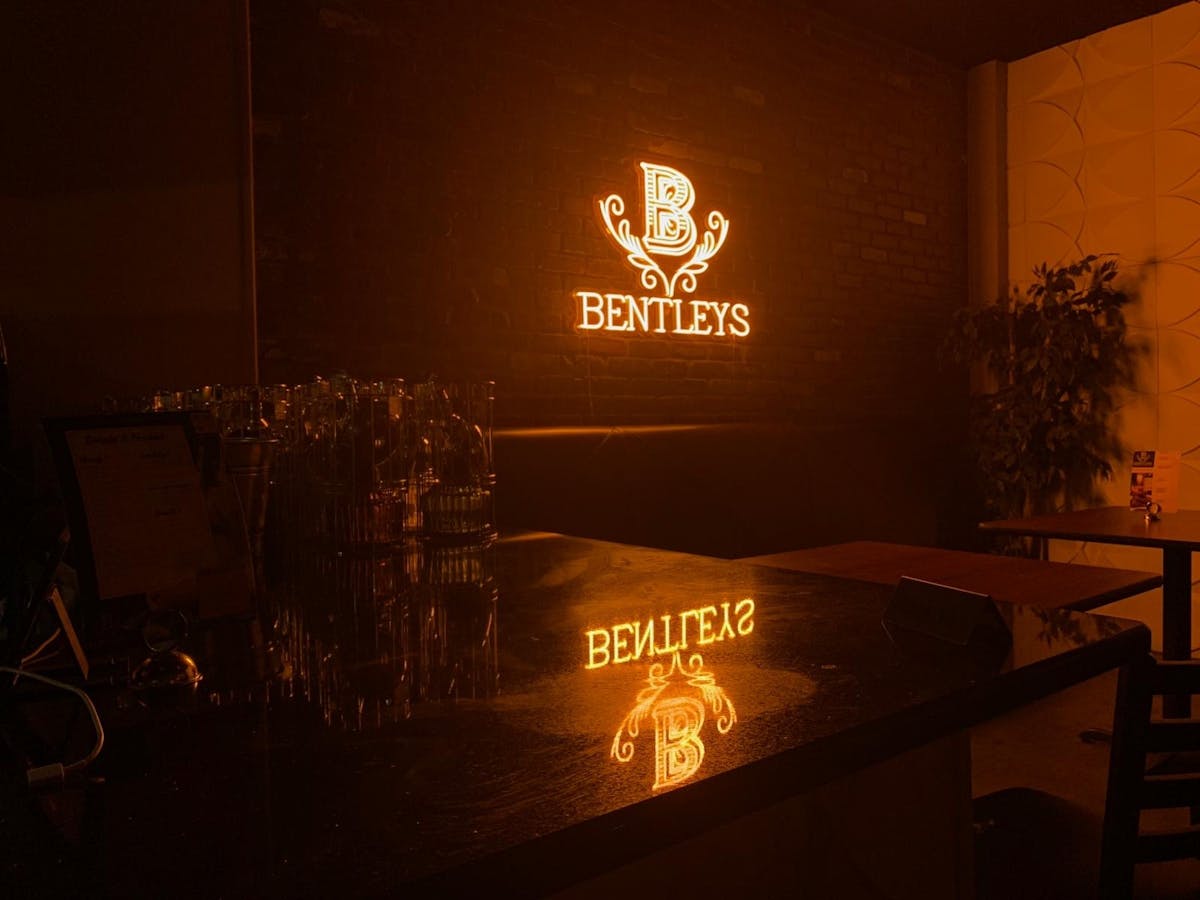 Our Story
Opened in early 2020, the team at Bentley's has managed to survive and thrive through the pandemic despite a tumultuous time for the world and especially the restaurant industry.
Seated in the heart of downtown Newark, Bentley's has become an attraction for locals who have embraced the restaurant's appetizing eats, friendly vibe and lively entertainment options. The restaurant's success, says it's owners, can be attributed to a mixture of elements working together. Mainly its location, support from the community, and of course, Bentley's menu of diverse and delicious food. Bentley's menu has something for everyone, like co-owner Barry's personal favorite, Bentley's Southern Fried Honey Wings. Their other popular menu items include takes on classic staples like burgers, wings, and mac & cheese as well as newly forged flavors turned crowd favorites like Rasta Pasta, Bentley's Jumbo Lump Crab Cakes, and their Braised Short Rib Empanadas. Vegan options are also available at Bentley's including a variety of hearty salads, black eyed pea hummus, cauliflower wings, and rice bowls made with fresh, whole ingredients. Bentley's vibe is unmatched any day of the week, but the soulfood spot comes alive on the weekends starting with a live set by DJBanks on Friday nights, BYOB friendly karaoke on Saturdays, and a midday brunch menu and a football menu on Sundays with hookah available every day of the week.
Bentley's is also proud to be able to help residents of the community literally put food on their table by employing a majority of their staff from the surrounding Newark community. The owners also welcome partnerships with like-minded community wellness organizations by providing a space for hosting events and meetings. For Johnnie, opening Bentley's in the city of Newark represents an opportunity to give back to home and the city where it all started". The current Bentley's location is the second restaurant venture for the entrepreneurs, but certainly not the last. Now a year and a half since its grand opening, the ambitious owners hope to make plans for a second location in the near future. They hope that Bentley's near the corner of Clay and Broad Street, will continue to be embraced by the community as they continue to serve residents of New Jersey and beyond.